HumanKind emerged from a collaborative process of 'thinking with' Calke. In 2017 Calke commissioned the Research Centre for Museums and Galleries (RCMG) to help them explore issues of loneliness and isolation at the site, alongside developing new interpretive experiences for visitors.
Stage 1
Working with architect and designer Tom Duncan, Stage 1 ran from October 2017 to March 2018 and provided Calke with a Framework for programming at the site around the theme of loneliness and isolation. The Calke team were keen to engage with leading edge approaches to interpretation which responded directly to the spirit of Calke and further develop a design-led methodology.
With RCMG, Calke thought about the potential opportunities and pitfalls of work in this area in order to plan this work in such a way that it would:
deliver Calke's ambition to deliver high quality and sector leading interpretive practice;
generate new and ongoing community relationships;
result in an exceptional visitor experience and programming for 2019;
engage in contemporary debate and challenge;
and leave a legacy of increased expertise, creativity and confidence amongst staff and volunteers to develop this and other work in the future.
Findings from Stage 1 can be found in the research report, 'Isolation and loneliness – opening up new stories and interpretive experiences at Calke Abbey'
Stage 2
Working with researcher and creative producer Julie Howell, HumanKind (running from July 2018 through to June 2019) continues this innovative and exciting work by putting the 3 key areas of activity from the Framework into action:
Working with hand-picked creatives to develop interpretive interventions that disrupt the conventional heritage visit, and opening up moments of reflection on, and awareness of, contemporary questions of loneliness and social isolation which are felt, physically and emotionally;
Creating opportunities for staff, volunteers, visitors and programme participants to avoid loneliness;
Ongoing research and development as the Calke Abbey team learn more about what matters to them and push their work and capacity forward.
Ambitious in its reach, the project is focused around 16 working groups: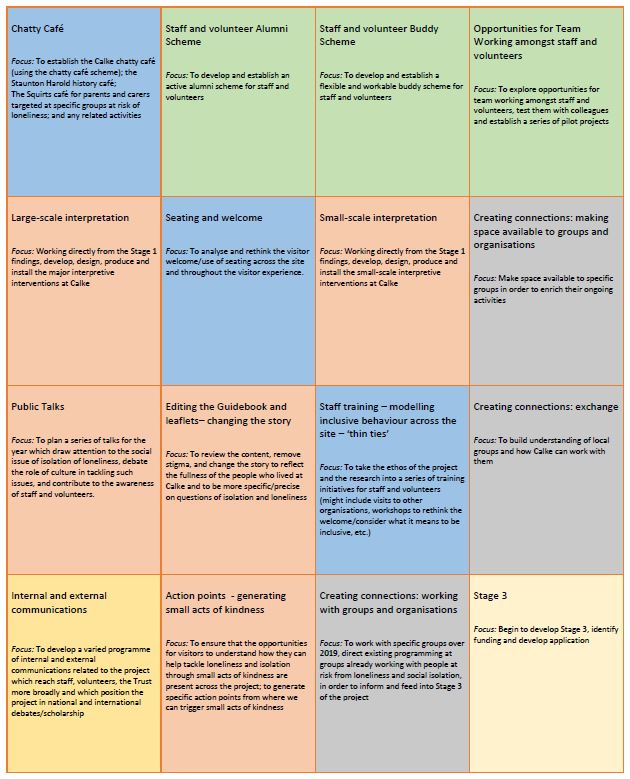 Across all working groups, the research has been advanced through a fully collaborative and participatory process. A core group of 36 people – made up of RCMG researchers and staff and volunteers from Calke – worked across the 16 working groups to identify outcomes and progress the work. Where possible, established role boundaries were blurred; everyone was empowered to take part in research, in planning, in interpretation, in design and in decision-making as a route to enabling the research to progress whilst also generating organisational learning and change.
Following on from the work above, Stage 2 will also see a significant piece of research which will capture: the impact of HumanKind in the visitor experience through detailed visitor research across a range of activities; the impact of HumanKind on volunteers; and the impact of the project on Calke as an organisation, its capacity and its working practices.
The project locates the work at Calke within wider national, and international, debates about the impact of loneliness and social isolation, and provides an interesting model of how cultural organisations – which are largely absent from national debates and discussions on loneliness and social isolation – can make a significant contribution in the drive to encourage us to talk about loneliness and take small actions to end it.